By Michael Snedic | 23 September 2021
Since March 2020, our lives have been impacted in so many ways as COVID 19 has taken hold around the world. There are many negatives as a direct result of this insipid virus, including travel restrictions and lockdowns.
Even 18 months on, we are limited as to where we can travel due to the 'Super Spreader' Delta variant. Some states, such as New South Wales Victoria, are into extended lockdown. Where i live in Queensland, we are leading a relatively 'normal' lifestyle and can travel around the state – for now at least.
As a professional wildlife/nature photographer and tutor, I'm usually trekking around Australia and the world, organising and presenting photography tours. I love what I do, but it often leaves little time for my own photography, especially back home.
Due to my not being able to travel overseas, plus the postponement of tours in Australia due to travel restrictions between borders, I have had a lot more time to get out and take photos. During lockdowns, I've also used my 'bush backyard' to photograph various plants and various birds that visit.
I regularly rise before sunrise and drive to different lagoons and wetlands not far from where I live, to photograph birds. I order a takeaway coffee on the way I and arrive to my destination in the dark. I then position myself so that the sun rises directly in front of me (or slightly to the side). I'll set up my camera and telephoto lens on a tripod which is set as low to the ground as possible.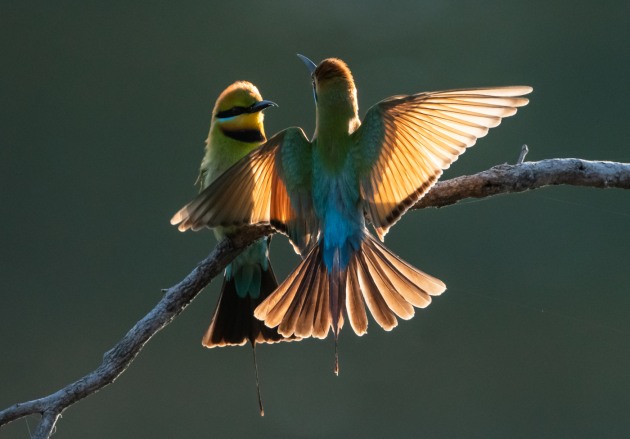 I then set up one of my camp chairs, with a hot coffee by my side. As the sun starts to rise, I follow the birds through my viewfinder, looking to create rim lighting, backlighting, silhouettes or blurred out bokeh balls.
I alternate the early morning bird photography shoots with regular ventures to my local Botanic Gardens and local rainforests, looking for plants and fungi to photograph. I can spend many hours totally absorbed with what I'm doing, with not a care in the world.
By looking for macro subjects to photograph and then working out the best lighting, angles, composition and depth of field at which to shoot them at, hours can just fly by. I feel totally 'in the zone' and my creativity flows when I'm in these environments. These regular outings are also good for the soul.
As far as what to photograph, there are an endless stream of subjects and locations out there to choose from. You may want to perfect your skills and take images of wildlife that are well composed, sharp, with no background distractions and subtle lighting.
Alternatively, you might try techniques that are totally 'out there' or abstract. Neither method is right or wrong. Quite simply, it's the style that interests YOU that matters. Experiment, experiment and experiment some more!
Rather than look at the negatives associated with COVID and the associated restrictions in travel, I feel grateful that I have had so much more opportunity to get out with my camera. I have also had more time (finally) to search through many of my RAW files. I have found some real gems that I had missed previously and with editing software programs capable of so much more nowadays, I'm able to reedit some of these images.
Overall, my message here is to try to look at the positives of restricted travel and take advantage of the extra time you might now have. Whether it is in your backyard or a kilometre from home, pick up that camera and get on out there and shoot!
About the author: Michael Snedic has been photographing Australia's wildlife and natural beauty for nearly a quarter of a century! He is widely published, is a Nikon School tutor and is an in-demand speaker at Camera Clubs and Photography Conventions across Australia.
Michael is the founder of WildNature Photo Expeditions, specialising in nature-based photography workshops to destinations such as Lord Howe Island, Tasmania (Cradle Mountain, Freycinet, the Bay of Fires and the Tarkine region), Girraween and Lamington National Parks, Carnarvon Gorge, Kakadu National Park and the Wildflowers of WA, as well as overseas destinations. To see more of his work, visit www.michaelsnedic.com.