Picture this: You are freediving 10m below the surface on one breath, floating silently amongst the endless blue ocean backdrop. You are here for one thing – to photograph a passing humpback whale and her calf. Suddenly, a 30,000kg male escort glides into the frame, fanning its gigantic tail once, and disappears into the black.
You are totally out of your depth; humans aren't made to be deep-sea divers, although admittedly, some clearly are. But for most mere mortals, we are at the total mercy of the ocean environment and these beautiful and wild creatures.
Most people out there are satisfied with conventional whale watching tours as they provide a fantastic viewpoint with minimal risk. However, some people, like me, seek a deeper connection with nature. They make their way to the sacred waters of places like Tonga, Fiji and Tahiti and enter the mystical world of our oceans to swim with these giants of the sea.
DIVING IN
You could be forgiven for thinking that photographing whales is an easy task due to their enormous size. After all, anyone armed with a camera phone can snap a half-decent shot of an elephant or other large animal and come away quite chuffed. But unfortunately, the moment you dip below the surface of the water a plethora of other factors come into play beyond merely pointing the camera and pressing the shutter. Add in some split 50/50 scenes, and now you've got double the exposures to consider.
The following tips, tricks, considerations, and skills are ones that I've practised and honed over many hours in the water. They can relate to any number of underwater situations and not just photographing whales, but hopefully this guide will provide insight into how to best capture images in a safe and environmentally aware manner. As always, once the basics are mastered, then you can focus on creativity.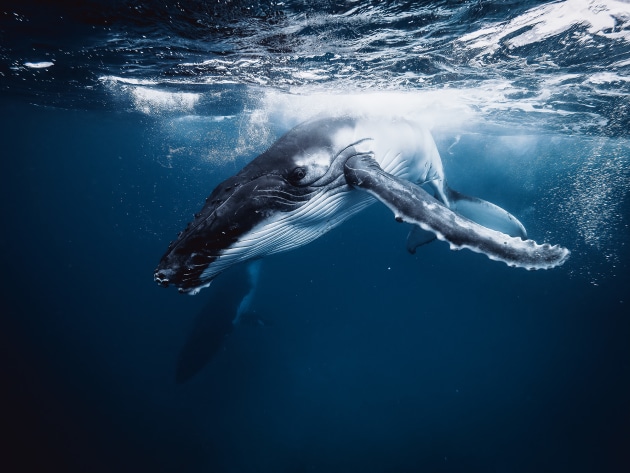 CHOOSING YOUR GEAR
For the sake of this article, I'll be focusing on handheld cameras that can shoot RAW and in manual/semi-auto modes. These pointers could also be used for mobile phones and action cams inside housings with basic manual controls. We will also only be using natural light. I won't delve too deeply into gear choice, but please consider these few critical points.

HOUSINGS
Underwater housings generally aren't cheap. There is no way around this one. Each brand of housing sports unique features, exotic materials, and depth ratings, and let's not forget the ports required for each specific lens you wish to use.
There are two general types of housings. Dive housings are rated for depth and functionality, and surf housings are built for durability. Surf housings usually can't withstand high-pressure depths of more than 12m and are highly buoyant.
When deciding how much to pay for a housing, consider how much you value your camera and the main types of shots you want to capture. Point and shoot housings can cost as much as the camera itself. M4/3 housings usually cost more than the camera itself, and then full-frame and above options are ridiculously high in price. There are many great semi-affordable options out there; but I would recommend sticking to solid purpose-built housings rather than the soft plastic style bag options.
LENSES
For beginners, I would recommend choosing an ultrawide zoom lens. Whales are large, so anything from 11mm – 24mm (35mm equiv.) should accommodate most shots. For super-wide close-up images, you'll be looking at using a fisheye lens. Remember, you will also need a dome port for a wide-angle lens. The bigger, the better, as it allows for those unique split 50/50 images above and below the water.
Whatever your setup, ensure you become familiar with the button layouts, as they will often be mapped differently to the camera itself. Worse still, some buttons may not even exist. Chances are the waters where you can legally swim with whales will be pretty clear, so as long as you are relatively close, you'll come away with a great photo regardless of your kit.
And finally, if you are using a zoom lens, make sure it is set to the widest possible focal length before placing it inside the housing, so it's ready to go.

CAMERA SET-UP
I map my button layouts and controls differently when putting the camera inside my housing. It works better for my set-up. This is how I do it.
Firstly, I always shoot using back button focusing, both on land and sea. I find that when I'm bobbing around in the water, making quick turns, and getting hit in the face with waves, it's challenging to keep my finger half-pressed on the shutter button.
Some housings may have a distinct tactile click to signify halfway shutter focusing. Still, I like using my thumb to lock focus on the whale and wait for the right moment before firing the shutter. Ideally, you will want to map focus to a button near where your right thumb sits. This helps maintain a solid handhold position.
If your camera has one, set it to always display the rear screen and histogram. Looking through the viewfinder is next to impossible, and you'll want your peripheral vision to be adequately maintained.
Perhaps more so than other genres of photography, it's really important to shoot RAW. Light reacts differently underwater, and you'll find that your white balance may differ more than you'd like.
The deeper you dive, the more red light is filtered from the colour spectrum, hence why everything becomes deep blue. In fact, at just 4.5m down, you begin to lose most red light completely. Add a horizontal distance into the mix and you've lost almost all your warm colours. You can fix a lot of this in post-production, but it is tricky to do with JPEGs. At the very least, if your camera has an underwater WB mode, use that. It also helps when shooting at a higher ISO, and noise reduction in post-production is also much more straightforward.
SHOOTING MODES
Firstly, each encounter is going to be different. The dynamic movements of a whale will often result in lighting of all types and angles. From backlit, front illumination, and top-down lighting, you must be prepared for all situations. Changes usually happen very quickly as well, with whale interactions ranging from a few seconds through to 20 minutes. So, make sure your camera is setup before it hits the water.
As this article is aimed at beginners to underwater photography, I suggest using a semi-automatic mode like Aperture Priority. This may seem counterintuitive to all you pro-photogs out there, but this means we can set our aperture to say f8, and if we miss focus (which is extremely difficult underwater), we will still have most of, if not all, of the whale in focus. For those competent with manual settings, just apply the same principles to your setup.
Let's start with shutter speed. On cloudy days, or when visibility is poor, aim for a shutter speed of at least 1/150s. This should be fine if the whale/subject is far away or isn't moving too quickly. On sunny days with great visibility and close quarter fast movement, aim for a shutter speed of 1/1000s or faster.
As mentioned above, I almost always keep my aperture at f8. The exception is on cloudy days or when I dive deeper, where I may open up to f2.8 – f4. In regard to ISO, even as a M4/3 shooter I rarely go above ISO 1600, but don't be afraid to push your ISO if you need to. On bright sunny days, I generally sit at ISO 400 and cloudy days at ISO 800 – ISO 1000. Remember that often these encounters are once in a lifetime moments. It's easy to fix noise in post-production – blurry images less so.
From here, set your camera to Continuous Autofocus, and choose a setting that gives roughly five or more central focus points if possible. Water particles and other objects can confuse the camera's autofocus if you leave it to choose a subject over the entire frame.
Finally, and this last one is critical – fire in burst/sport mode. I cannot stress this enough. Your time in the water with the whales will often be less than 15 minutes and could be the only encounter you have that day.

SPLIT IMAGES
For 50/50 split images, you'll want the largest dome port possible. Technically, they're quite challenging images to pull off without water on the top side of the lens.
The magic aperture is f/11, however this does mean any drops on the lens will show up quite prominently. There are numerous methods to help with this. The best I've found is to give the dome glass a good lick with your tongue around 20 minutes before going into the water. You need the saliva to dry and not wash off straight away. Then, keep the lens underwater until the exact moment you raise it out of the water.
I gradually raise the lens out of the water while firing a high-speed burst and hope for the best. To nail these shots, you should read the whale's body language and wait for it to surface for air. Pre-set your single point Autofocus marker for the topside portion of the frame and drop your exposure value down to ensure the sky doesn't blow out. Good Luck!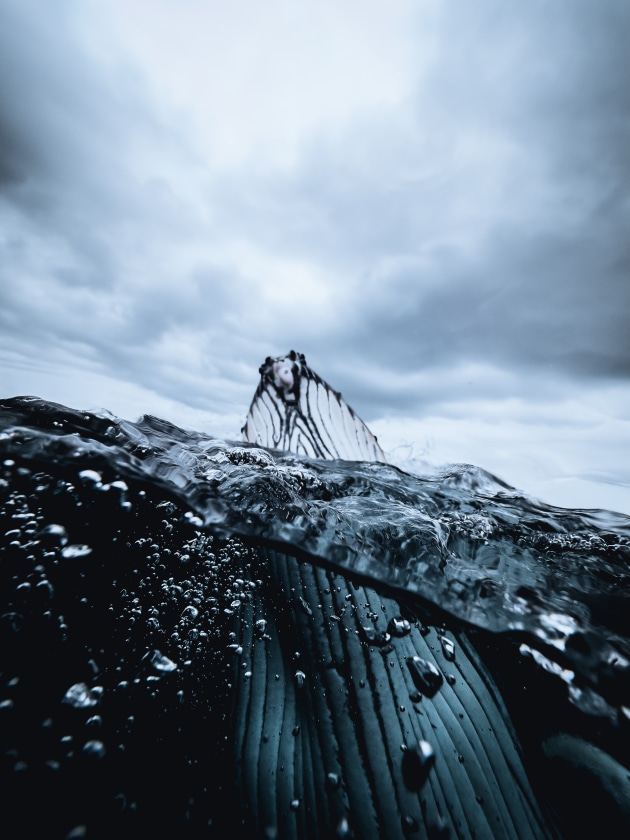 ANGLES AND SUBJECTS
The best conditions for underwater photography are early morning sun, midday clouds, and mid-afternoon sun. At these times, you'll get beautiful, angled light rays without the strange-looking ripple shadows that can appear on a whale's back in harsh midday light. That said, a little backlighting also works wonders with humpbacks as their stomachs are usually white and can make them stand out in high contrast situations.
When photographing a mother and her calf, try to frame them together just like you would a family portrait, and don't forget to switch to portrait orientation to fill the frame. Just like with a human portrait, aim to focus on the whale's eyes.
I also like to try and add people for scale. Some of the most incredible images out there have been from a distance depicting a tiny person floating near a whale. Just don't get too close! Remember too, that whales must come up for air at some stage, which gives you an excellent chance to capture a swathe of bubbles that can look impressive.
These tips and tricks are by no means the be-all and end-all but will hopefully give you some starting points to consider. If you find that they aren't working for you, then, by all means, switch over to a sports automatic mode to get your shots. It's best you leave your trip with some 'noisy' images rather than nothing at all.
Now that you're armed with a new set of skills, it's time to get out in the water and practice, practice, practice! It's an absolute privilege to swim amongst these gentle giants and you really want to make the most out of every encounter you are gifted. ❂
WHALE SAFETY AND PRESERVATION
If you are planning to photograph whales, above or below the surface, it's important to understand there are a number of rules in place to ensure the safety and ongoing preservation of these remarkable amimals. Make sure you know and understand the rules in your area before you enter the water.
As well as State regulations, be aware there may be specific regulations that apply to different marine parks.
• NSW: https://www.environment.nsw.gov.au/topics/animals-and-plants/native-animals/approaching-marine-mammals-in-nsw
• Queensland: https://environment.des.qld.gov.au/wildlife/animals/discovering-wildlife/watching-marine-mammals/rules
• SA: https://www.marineparks.sa.gov.au/enjoy/whale-watching
• Tasmania: https://dpipwe.tas.gov.au/wildlife-management/marine-conservation-program/whale-and-dolphin-viewing-guidelines
• Victoria: https://www.wildlife.vic.gov.au/our-wildlife/whales,-dolphins-and-seals/water-safety-around-marine-mammals
• WA: https://www.dpaw.wa.gov.au/management/marine/marine-wildlife/whale-watching
STAYING SAFE
Humans can't breathe underwater and you are swimming in the ocean with wild animals. So be smart.
Learn to swim. You should be confident in treading water for up to 15 minutes, and be somewhat proficient in using fins, mask and snorkel. This is not the time to learn freediving!
Always listen to your guide. They know the whales better than we do and can read their behaviour. Got a shot in mind? Mention it to your guide; chances are they can help you get it.
Maintain a safe distance of 7m (wherever possible). Often you will find calves are highly interactive and will want to physically play with you. I've heard of housings being smashed by playful juveniles. You also run the risk of injuring the animal if you get too close.
If weather conditions are bad for your camera, chances are they could be bad for your body. Wear the right wetsuit for conditions. If you are cold, you can't possibly take good photos.
Be aware of other whales around you. While humpback whales aren't generally aggressive, you are a heck of a lot smaller than they are and could be seriously injured.
QUICK TIPS
Have fun! Too often I forget to put the camera down for a bit and just enjoy the moment.
Move calmly through the water and always keep the whales in sight.
When using a wide-angle lens, try floating on your stomach for shots facing straight down. This will ensure your fins (or someone elses) are not in the frame.
When swimming as a group, be mindful that others are also trying to take photos and enjoy their experience.
Freediving fins are great for when you want to get down deeper to eye level. Particularly during swim by encounters. They are clumsy, however, when manoeuvring at the surface.
Review your images when hopping back on the boat. Ensure your settings were working and that your photos are sharp.
Dry your housing out thoroughly each night and check your rubber seals for dirt and sand that could compromise the seal. Apply lube to keep the rubber from drying out.
Add in a few silica gel packs you find in shoe boxes. These will help prevent fogging. Also, never open your housing in humid locations unless you are done for the day.